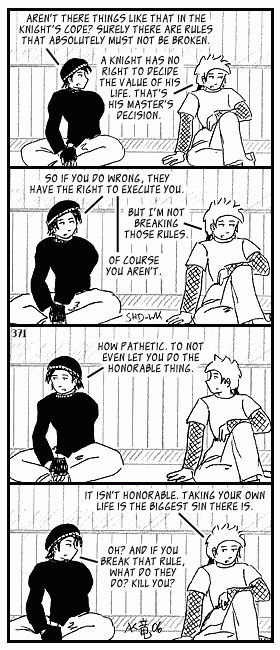 Current mood: Happy.

I have fallen in love with WikidPad. It's a very effective wiki-type notebook program for Windows, and I moved all my SHD-WK background information from text files into this program (and added more -- crosslinking is just so helpful).

The forum experiment is still running - read, register, post! I'm still convinced that we don't really need a forum, but I'd like to be proven wrong. ;)

Spiky's Link of the Day:

"What do I cook today?" Well, maybe stay away from this collection of Utterly Outrageous Recipes...
We're testing the shd-wk forum - come and join us!

Author's notes:

I'm quite happy this time how the expressions turned out, even after resizing; it's pretty much how I wanted it.
I bet each of them finds the other's rules and beliefs ridiculous...