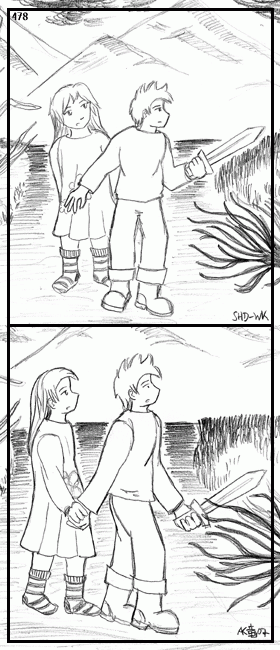 Today's news:

Happy birthday to me :D

If you want to make me even happier today, here's some suggestions...
1. Vote for SHD-WK on the top lists! Links in the yellow box at the end of this column :)
2. Consider joining the forum, perhaps even as an active poster?
3. Spread the word and tell somebody about SHD-WK today! New readers are always welcome. If you're new, Welcome!
4. Befriend me at ComicSpace!

In other news: SHD-WK made it to the top 100 on TWC last night - thanks to all of you who voted! OK, enough with the exclamation marks now...

(Note: Archive ads are on the main page only for this week while I'm trying to convince myself to have ads on the front page too -- but I likely won't. This column is getting too long.)

Spiky's Link of the Day:

Downsy is the cutest thing ever.

Author's notes:

Hey, it's my birthday today, so this is my birthday comic. I hadn't noticed that until after I finished it! Luckily, I'm happy with it ;)