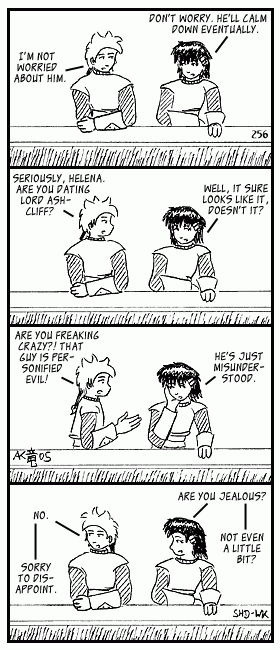 Current mood: OK.

I've been working a bit with the overall storyline again (almost managed to solve the timeline problem I had, too), and tentatively decided on the words for the very last comic... The earliest that one will go online will be November 2009 though, so it's quite a while still ;)

But unless I change my mind about it, the very last word will be "fell".

Spiky's Link of the Day:

LEGO. Stop motion animation. Brickfilms. Endless hours of entertainment.
Current (and future :)) update schedule:
Tue/Wed/Thu/Fri

Author's notes:

I'm not completely happy with this one, but it sure is better than the previous. My pen is acting strange again; I think I'll replace it yet again.
Look, it's the old "he's just misunderstood" defence ;)

This month's sponsor: Spikydragon shirts.