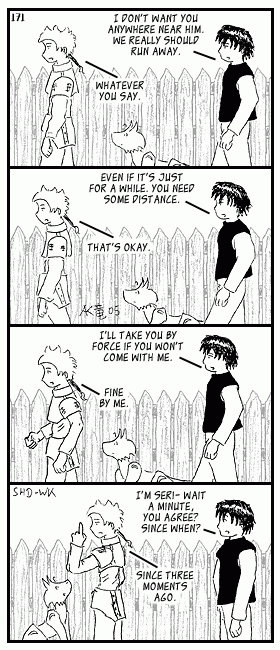 Current mood: Annoyed/Stressed out.

Yeah I know I've been whining about the snow all winter, but really... it's too freaking hot now.
I started packing. I'll only be online for two more days. After that, who knows how soon the phone company will manage to set up my DSL... I'll be offline for 8 days at least.
But worry not, there's enough comics (and spikylinks) in the buffer even if it takes 4 weeks.

Spiky's Link of the Day:

You all know the Astronomy Picture of the Day, which I've linked before. There's also the Earth Science Picture of the Day, which is just as much worth looking at! My favourite are these stalagmites. Because they look like Hattifatteners.

Author's notes:

I messed up with the backgrounds I had originally planned for this and the following strip, so I had to resort to using the boring fence (and village street) again.
Not happy about panel 4. Resizing...expressions...blah. Tried to fix it, didn't work.