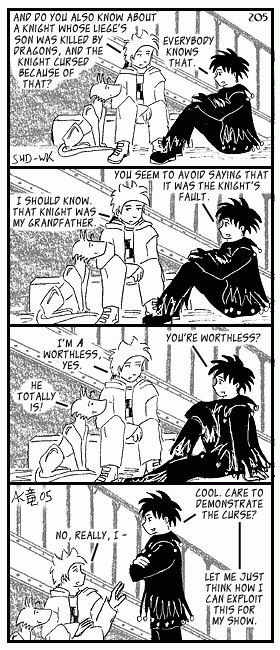 Current mood: Happy.

Among the things questions readers sometimes ask me are "why don't you have ads on the front page to finance the comic" and "when will there be merchandise". Well, the answer to the first is easy - there will never be annoying ads on the front page (the occasional Sponsor of the Month is all I will do). And as for the merchandise, I first had to have the time to come up with some designs, and then find a shop service that can do what I want.
This is now done. I haven't made it public earlier because I first wanted to order and check out my own products. They finally arrived and the quality was convincing enough. (I don't have photos myself yet, but reader antartic is currently showing off some on his site.)
Currently, the main SHD-WK store only delivers to Europe, though. There is a Cafepress store with some comic-related designs for those outside Europe. In the future I hope to make some of the items from the main store available outside of Europe, too.
So, yeah. If you want to have a Spiky t-shirt, now you can. If you want to help me pay for the hosting and get something in return, now you can. Whether I will add the shop link to the main menu or not, I haven't yet decided though. I never wanted to commercialize my comic, and I'm wondering if this is already breaking the rules I set...

Oh yeah, I almost forgot: If you order at the SHD-WK store (not the Cafepress one) before November 15, use the code TR2K8EPSH1 for a 2 EUR discount!

Spiky's Link of the Day:

Do you know where all of those socks go when you lose them in the laundry? If you haven't seen it yet, check out Sockbaby. At least for the fight sequences.

Author's notes:

I'm quite happy how it turned out, although I'm still not sure about the background. It makes the whole scene so busy and dark and hard to read, I think. But maybe it still looks better this way than without a background, empty...