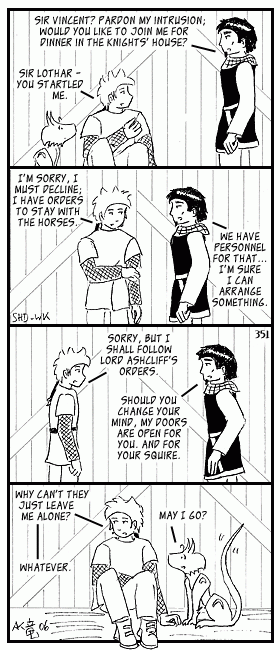 Current mood: Tired.

Varis eloinen
Arka mustalintu
Auringon väreet alas sinulle
Väsynvyyhdin
Surun lähetti
Kerro siitä
Kangas tulesta
Pinta väreistä

---- Tenhi, Varis Eloinen

Spiky's Link of the Day:

I wanted to link to Noah K. Everyday today, but at the moment of this writing, the site is down -- I'll link it anyway, it will come back or a mirror will be posted there. And check out the video on YouTube while you wait.

Author's notes:

Not happy about Vincent's expression in panel 3. Panel 4 is fine, though. I didn't mean for him to turn into emokid!Vincent ... at least he doesn't dress the part.