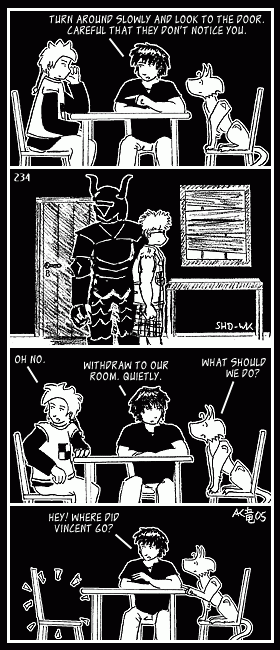 Current mood: Annoyed/Stressed out.

Too much to do, too little time, too many unforeseen problems ....

Currently almost non-stop in my CD player: Vilddas. Good stuff.

Spiky's Link of the Day:

It's a bit late for holiday stories, but... Remember those interactive storybooks, where you have to press buttons or move sliders to go along with the story? It's a Wonderful Internet is an online version of such a book... and it's funny. In a weird sort of way (flash, sound).
Current update schedule: Tue/Fri

New schedule starting March: Tue/Wed/Thu/Fri :)

Author's notes:

I was worried I wouldn't manage Vincent's pose in panel 3, but I think it turned out fine.
Of course I had problems drawing Siron, hadn't drawn him in a while... Edgar was marginally easier.
Overall, I'm happy with this one though. And that's the last of the white-on-black ones for quite a while, too.

This month's sponsor: Spikydragon shirts.