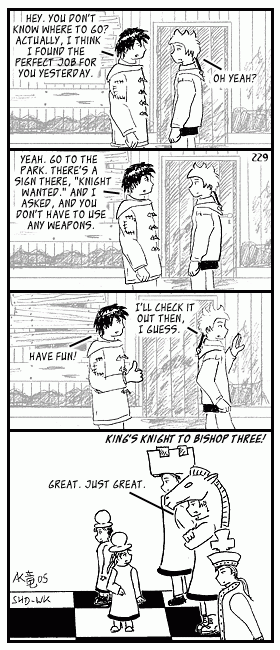 Current mood: Happy.

Hey, I got my little online t-shirt store off the ground. I think I'll sponsor myself for a while (see "Sponsor of the month" link below the author's notes). That's ok, right? Even if the shop is only in Finnish for now ... Go there and laugh at the funny words, or something :)

Spiky's Link of the Day:

More than enough strange/funny/interesting music to spend your weekend with: Songs to wear pants to!
Reminder: For the whole month of January, the comic will update three times a week! Yup, that's Tuesday, Thursday, and Friday!

In February, we'll be back to the regular twice a week, Tuesday/Friday schedule.

Author's notes:

Yay chess! :D
I decided not to draw a background for panel 4 and the next comic. It would look better, if I could draw a good background. But I think I cannot, so just imagine a park in late winter and a group of spectators there, or something, 'k?

This month's sponsor: Spikydragon shirts.