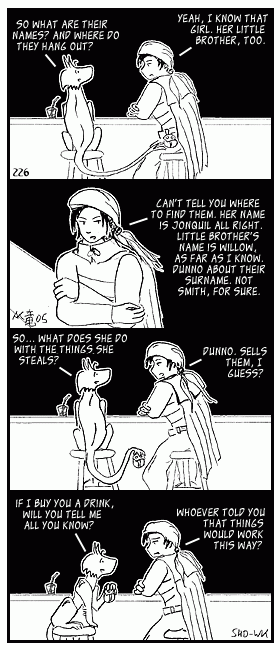 Current mood: OK.

Yesterday, all the snow came down from our roof. It sounded like an earthquake, and it sure looked cool when wave after wave of snow fell down. Now we have over a meter of snow blocking our back door. And I think my scaredy cat will never go near a window again.

Spiky's Link of the Day:

What's the best thing about living in the north? Northern Lights.
Reminder: For the whole month of January, the comic will update three times a week! Yup, that's Tuesday, Thursday, and Friday!

In February, we'll be back to the regular twice a week, Tuesday/Friday schedule.

Author's notes:

Not so happy about panel 2. The proportions are shot, the perspective is shot, and I don't know if its bottom border should be black or white. *sigh*
But sometimes, I really love that dragon.

This month's sponsor: Spikydragon shirts.