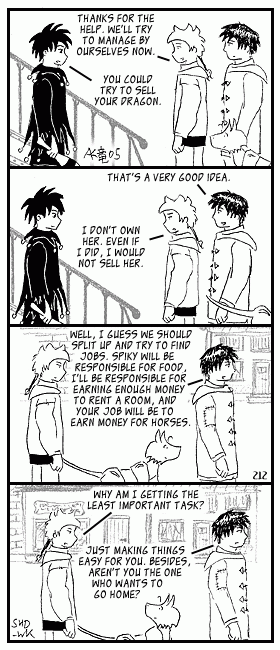 Current mood: Happy.

There's so much snow out there! We have snow overhanging the roof about a meter wide, and half-meter long icicles. Looks quite cool, but I wonder when it will all come crashing down? Probably in the middle of the night :)

Yes, last winter I wrote almost every week about how much I hate snow. I still do, but it's so much better when you can stay inside and don't have to go anywhere!

Spiky's Link of the Day:

Want to be a little kid again? Try the Boohbah Zone. So many places to click! So many colours! So much better than the Teletubbies! No, really. (flash)
Reminder: For the whole month of January 2006, the comic will update three times a week! Yup, that's Tuesday, Thursday, and Friday!

In February, we'll be back to the regular twice a week, Tuesday/Friday schedule.

Author's notes:

This is much better, background-wise. I ran out of scripts... it's easier to draw when I know exactly what's going to happen in the next panel. Now I only have a rough idea of what comes next.
I underestimated the size of the text in panel 3, too. It only just fit...