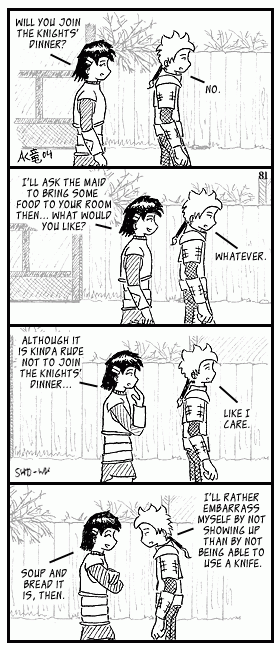 Current mood: Annoyed/Stressed out.

Argh! Too much workload! *runs around in circles frantically* I hate it when I'm in drawing or writing mood and can't act on it because I'm hardly home and when I am I can't get the work-related stuff out of my head. And I'm weeks behind on writing down author's notes to the stuff I draw! And my comic buffer is SHRINKING!! *runs around some more, finally bangs head against the wall* Whew. That felt good.

Spiky's Link of the Day:

My favourite online museum is probably MOBA; the Museum of Bad Art. My favourite painting there has to be Post Apocalypse. And it's not even that bad ;)

Author's notes:

Sucks to be cursed ;P
I'm fairly happy with how this one ended up, although I wonder when and how Helena lost her curves...